Leinster Minor Football Final champions 2023 are Dublin after beating Kildare
Click here for Leinster Minor Football Dublin v Kildare Live Scores
Leinster Minor Football final
Kildare 2-08 0-19 Dublin Result
Lenny Cahill won man of the match with 7pts(4f) and Noah Byrne had another huge performance with three points from play.
In a highly anticipated match between Dublin and Kildare, Dublin emerged victorious after a thrilling encounter. Despite a competitive start, Dublin's resilience and skill propelled them to secure a well-deserved win.
Dublin Takes Control:
Dublin's Scoring Run: In the 24th minute, Noah Byrne sparked Dublin's scoring spree, setting the stage for their dominance. Lenny Cahill showcased his prowess by contributing four consecutive points, increasing the pressure on Kildare. With Sean Keogh's successful kick, Dublin extended their lead to 0-9, leaving Kildare hoping for the half-time whistle. Kildare's goalkeeper, Cathal Moore, made an exceptional save, preventing Harry Curley from widening Dublin's advantage.
Kildare's Response:
Half-Time Adjustments: At halftime, Kildare made three strategic changes and emerged with increased urgency. They deserved more than the solitary point they scored in the opening minutes of the second half, showcasing an improved overall performance.
Dublin's Point Accumulation:
Dublin weathered Kildare's early onslaught and responded by scoring three consecutive points, pushing their lead to 0-12 against Kildare's 0-4. It seemed that Dublin was on their way to securing a comfortable victory.
Kildare's Fightback:
Kildare's Critical Goal: In the 41st minute, Kildare showcased resilience and determination as Colm Moran and Evan Donnelly orchestrated a well-executed play on the left flank. Tadhg Donlon received the ball inside and expertly struck it past Dublin's goalkeeper, Cillian Murray, providing Kildare with a glimmer of hope.
Joey Cunningham's successful free kick added to Kildare's score, prompting Dublin to respond through Byrne and Cahill. In the 50th minute, a pivotal moment occurred as Cian Keaveny unleashed a powerful shot that bypassed Murray, only to be denied by Dublin's midfielder Alex Carolan, who made a remarkable clearance off the line. Had Keaveny's effort found the net, cutting the lead to two points, the outcome of the game might have been different. However, Dublin capitalized on the opportunity, scoring three of the next four points, extending their lead by seven.
Dublin Seals the Victory:
Kildare's Late Goal: Evan Boyle's goal in the 57th minute briefly ignited hopes of a remarkable comeback for Kildare. However, Dublin displayed their resilience, maintaining their composure as they saw out the game effectively.
Cahill's Final Point:
In a fitting end to an exceptional performance, Lenny Cahill, named man of the match, scored his seventh point, sealing Dublin's victory.
Dublin will play the losers of Cork/Kerry in the quarterfinals.
Scorers for Dublin: L Cahill 0-7 (4fs), N Byrne 0-3, S Mullarkey 0-2, L O'Boyle 0–1'45, S Keogh 0-1, J Young 0-1, R Mitchell 0-1, S Ryan 0-1, A Carolan 0-1, H Curley 0-1.
Scorers for Kildare: T Donlan 1-1, E Boyle 1-0, C Moore 0-2fs, E Donnelly 0-2, J Cunningham 0-2 (1f), H Redmond 0-1.
Dublin: Cillian Murray; Sean Keogh, Cillian Emmett, Jack O'Sullivan; Joshua Young, Eoghan Costello, Ryan Mitchell; Senan Ryan, Alex Carolan; Patrick Coleman, Luke O'Boyle, Noah Byrne; Paddy Curry, Harry Curley, Lenny Cahill.
Subs: Shane Mullarkey for Curry, 43; Ciaran O'Connor for Young, 50; Andrew O'Reilly for Coleman, 51; Colin McAweeney for O'Boyle, 60+1.
Kildare: Cathal Moore; Liam Kelly, Rob Murray, Ruaidhri Lawlor; Seanan Murphy, James Donnelly, Michael Chambers; Evan Boyle, Donnchadh Kinch; Harry Redmond, Joey Cunningham, Tadhg Doran; Colm Moran; Darragh Mullahy, Evan Donnelly.
Subs: Cian Keaveny for Mullahy, h/t; Liam O'Connor for Kinch, h/t; Paul O'Dea for Murray, h/t; Jack McCabe for Murphy, 40; Ronan Kelly for Donnelly, 56.
Referee: Andrew Smith (Meath).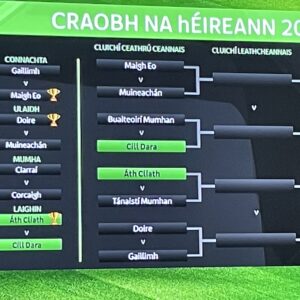 "We just got momentum off each score!"

Is é Lenny Cahill Laoch na hImeartha inniu!
Comhghairdeas leis! 👏@DubGAAOfficial @ElectricIreland #GAABEO | #GAA

BEO/LIVE ar @TG4TV pic.twitter.com/PrC8UOXrHW

— Spórt TG4 (@SportTG4) May 31, 2023
#DUBvKIL 51 nóim@DubGAAOfficial 0-15@KildareGAA 1-06

Cúilín álainn ansin faighte ag Ryan Mitchell!👌

A fantastic point for Dublin! 👍#GAABEO | #GAA

BEO/LIVE ar @TG4TV pic.twitter.com/voCHt1Qr9W

— Spórt TG4 (@SportTG4) May 31, 2023
Starting teams for Dublin v Kildare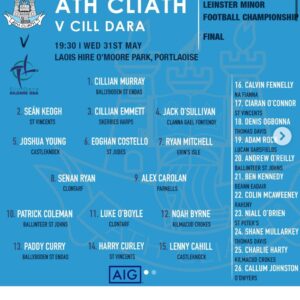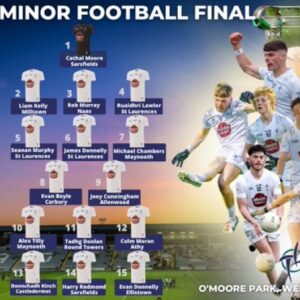 MORE TO FOLLOW 
Preview
 
After a series of intense battles in the Leinster Minor Football Championship, the stage is set for an eagerly awaited showdown between Dublin and Kildare in the final. These two teams, known for their footballing prowess, have once again emerged as the top contenders for the prestigious title.
Dublin enters the final with an air of confidence following their dominant display against Offaly in the semi-finals. Their attacking prowess, highlighted by impressive performances from players like Paddy Curry, Harry Curley, and Lenny Cahill, has been a key factor in their success. They have consistently found the back of the net and capitalized on scoring opportunities, showcasing their ability to punish any defensive lapses. <a href="https://www.sportsnewsireland.com/gaa/leinster-minor-football-semi-final-reviews-dublin-v-kildare-final">Noah Byrne</a> has also proven himself as a goal-scoring threat and will be one to watch in the final.
On the other hand, Kildare's path to the final was paved with determination and resilience. Their hard-fought victory over Meath showcased their ability to grind out results even in tight contests. With standout performers like Joey Cunningham and Cathal Moore, Kildare has demonstrated a strong defensive unit and the ability to convert scoring chances when needed. Their never-say-die attitude was evident in their comeback against Meath, and they will be looking to carry that fighting spirit into the final.
The final promises to be a captivating clash between two teams that have already proven their mettle throughout the championship. Dublin will rely on their attacking firepower and the momentum gained from their semi-final victory. Meanwhile, Kildare will draw inspiration from their gritty performance and look to disrupt Dublin's rhythm while capitalizing on their own scoring opportunities
LiveScores Now Available at IrishScores.com