In a thrilling showdown, Cork emerged victorious in the 2023 All-Ireland camogie final, securing a convincing 5-13 victory against Waterford.
The match was filled with memorable moments and standout performances, cementing Cork's status as the new champions.
Waterford's Early Setback:
The match began on a somber note as Waterford lost Vikki Falconer, a standout player having an All-Star season, to a serious leg injury just two minutes into the game. This unfortunate incident impacted Waterford's defense, allowing Cork's captain, Amy O'Connor, to shine.
Amy O'Connor's Hat-Trick Heroics:
Amy O'Connor stole the show with an exceptional performance, scoring an impressive 3-7 from ten shots. Her hat-trick came in just two minutes at the start of the second half, turning the tide firmly in Cork's favor. The St Vincent's star displayed remarkable concentration, even admitting she wasn't aware of her hat-trick until after the match.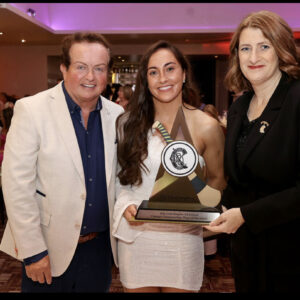 Manager Matthew Twomey's Impact:
Cork's manager, Matthew Twomey, played a crucial role in the team's success. Despite facing pressure and criticism during a difficult patch in the season, Twomey's support for his players never wavered. His tactical decisions and belief in the team's abilities paved the way for their triumphant victory.
Solid Defense and Resolute Mentality:
While the forwards received well-deserved praise, the Cork defense played an instrumental role in neutralizing Waterford's dangerous attack. Players like Libby Coppinger, Laura Treacy, and Laura Hayes demonstrated outstanding defensive prowess, ensuring Cork maintained control throughout the game.
Focused and Resilient Team Spirit:
The Cork team's unity and resilience were key factors in their success. Despite facing doubts and setbacks during the season, the players' trust in each other and the management team remained unwavering. Their motto, "GUL. Gach uile liathróid. Every single ball," epitomized their relentless focus on each moment, phase, and game.
Conclusion:
In an outstanding display of skill, determination, and team spirit, Cork secured a resounding victory in the All-Ireland camogie final for 2023. Their remarkable performance on the field and unwavering belief in themselves and their teammates earned them a well-deserved place in camogie history. Cork's triumph will be remembered as a testament to the power of dedication and unity in achieving greatness in sports.
SCORERS FOR CORK: A O'Connor 3-7(0-5fs); S McCartan 1-1; F Keating 1-0; K Mackey 0-1; H Looney, C Sigerson (f), O Cahalane 0-1 each
SCORERS FOR WATERFORD: B Carton 0-7(5fs); N Rockett, L Forrest 0-1 each
CORK: A Lee, P Mackey, L Coppinger, M Cahalane, A Healy, I O'Regan, L Hayes, H Looney, C Sigerson, F Keating, S McCarthy, A O'Connor, K Mackey, S McCartan. Subs: C Healy for Hayes (44), O Cronin for McCartan (47), A Thompson for McCarthy (51), O Cahalane for Sigerson (52), M Murphy for P Mackey (53)
WATERFORD: B O'Regan, L Forrest, K Lynch, K Corbett Barry, V Falconer, O Hickey, C Carroll, A Flynn, L Bray, M O'Brien, M Power, B Carton, N Rockett, R Walsh, A Fitzgerald. Subs: I Heffernan for Falconer inj (4), B Bowden for Power (ht), T Power for O'Brien (41), C Griffin for Carroll (42), S Fitzgerald for Lynch (54)
REFEREE: John Dermody (Meath)